Richard Brooks, NFEC's Chair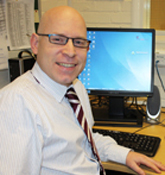 Be an NFEC Centre Contact!

If you deliver learning in engineering in an NFEC Member Centre you can get all the benefits of this website.
Click below to check whether your email domain is valid - if it is, you can register now!
Richard Brooks, Chair of the NFEC Board, says:
On behalf of the NFEC Board of Directors I would very much like to welcome you to our new website. It will be the main communication channel of what is still a unique organisation within the further education and training sector. Under my chairmanship NFEC will remain fully dedicated to the provision of active support to Members, in respect of both strategic and developmental matters and in confronting the day-to-day operational learning delivery issues that affect engineering and the related technologies.
We look to the future with confidence, knowing that we will be working with and for a strong and representative membership. Together, we can not only ensure that your local needs are met, but we can also address any national issues that are likely to impede your delivery of high quality learning.
As a Member of NFEC, you are part of a national network that brings together individuals and organisations within the sector, in order to address issues, to promote positive change and to share good practice. We influence national policy and strategy, we offer practical support by providing news and views, sector reports, advice and representation - and we help Centres improve curriculum design, teaching practices and learning methods.
When you log on to this site you will have access, to NFECís new blogging facility. You will be able to read and discuss the views of experts in national standards, qualifications, engineering and technology subject areas, delivery methods and management issues. You will also be able to post your own comments and blog articles, where and when you believe it appropriate and helpful to Members. A digest of recent blog events will be emailed to all members every week.
Members will also continue to benefit from NFECís free regional seminars and this site will carry up-to-date news of programmes, venues, details of attendees and notes of the seminar discussions. Benefit is maximised by attending the events but full details will still be available to members even if they have not been able to participate directly in a particular event. The greater our numbers the more effective we can be, for the benefit of each and every Member. You can contribute directly to NFECís effectiveness by persuading colleagues to join Ė thus helping them to help us to help you.
Contact us at any time if there are developments or other issues in your area that you would like to discuss and get NFECís confidential support.
Click on 'Join NFEC' above, to see if your Centre is a Member - if it is not, you can get a free one-month trial!
National Events
NFEC 2013 Spring National Conference - Register Now!
The Spring 2013 NFEC National Conference will be held on Wednesday 22nd and Thursday 23 May. The venue will be the Hilton Leicester, M1 Junction 21 Approach - once again Member prices are held at 2009 levels and there is an even better deal if you field more than one delegate!
........................................
Conference Delegates
Please visit our National Conference page to view the full conference program, venue details and you can book online.
........................................
Conference Exhibitors
If you would like to exhibit at our Spring National Conference please complete our application form.


NFEC gives you a commitment to work on any issue that directly affects your Centre. You will also have complete access to all of the facilities provided through this website, you will benefit from price reductions for NFEC conferences and you will have open access to all of NFEC's free Regional and other Dissemination events.

Become a Member of NFEC | Find out the benefits of joining NFEC | Who can Join NFEC